Learning Centre
Are you preparing for your CFA exam and in need of the CFA approved calculator, then contact us to buy one in Nigeria.
We have the Texas Instruments BA II Plus Professional Financial Calculator in stock.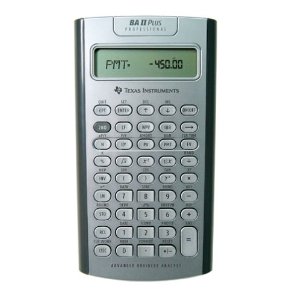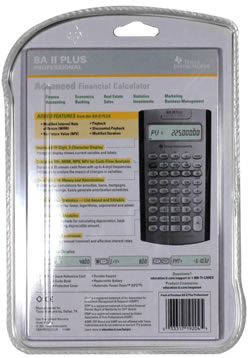 THE TEXAS BA II PLUS PROFESSIONAL CALCULATOR FEATURES ALL THE GREAT FEATURES OF ITS PREDECESSOR WHILE PACKING IN EVEN MORE TIME-SAVING FUNCTIONS TO MAKE SHORT WORK OF COMPLEX EQUATIONS.

IT'S AN IDEAL CHOICE FOR ENTRY LEVEL AND ADVANCED FINANCE, ACCOUNTING, ECONOMICS, INVESTMENT, STATISTICS, AND OTHER BUSINESS CLASSES. IT'S ALSO A GREAT CHOICE TO BRING TO THE CHARTERED FINANCIAL ANALYST (CFA) EXAM.
ALONG WITH THE STANDARD CAPABILITIES OF TIME-VALUE-OF-MONEY, ACCRUED INTEREST, AMORTIZATION, COST-SELL-MARGIN, AND DEPRECIATION CALCULATIONS, USERS CAN CALCULATE MORE ADVANCED BUSINESS AND FINANCE RELATED ISSUES.
IT WILL HANDLE NET FUTURE VALUE (NFV), MODIFIED INTERNAL RATE OF RETURN (MIRR), MODIFIED DURATION, PAYBACK, DISCOUNT PAYBACK, AND MORE.
ITS RUGGED METAL EXTERIOR, FIRM-TOUCH KEYPAD AND ANTI-SLIP RUBBER FEET MAKE IT IDEAL FOR ANYONE IN ACCOUNTING, ECONOMICS, INVESTING, STATISTICS, AND RELATED BUSINESSES.
IT ALSO COMES WITH A BLACK PROTECTIVE CASE.

You can call our support lines for purchase.
+2348023306865, +2348099614641, +2348051649248, +2348180713134
Or you can email us for more details.
This email address is being protected from spambots. You need JavaScript enabled to view it.