The CISA Exam Overview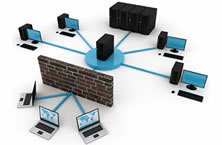 Is your organization's critical information protected? ...Really? Without comprehensive security plans, policies, and procedures, your organization's information security could be missing something. And that's all it takes for the worst to happen. As a Certified Information Systems Auditor (CISA), you'll perform a business-critical function -- assess your organization's IT and business systems to ensure they are monitored, controlled, and protected. These are valuable skills... and CISA is a valuable certification. There is rapidly growing demand for skilled CISAs. CISA is on the level of CISSP and CCIE in prestige and in the way it distinguishes you from your peers. It's globally recognized within the IT industry and beyond. It's used by the US Department of Defense and others as a minimum requirement for many high-end security positions. And studies have found that just having the CISA credential can increase your salary.
Course Descriptions:
Module 1—CISA: The Process of Auditing Information Systems

Topics include:

ISACA IT Audit and Assurance Standards, Guidelines and Tools and Techniques
Risk assessment in an audit context
Control Objectives related to in formation systems
Audit planning and management techniques
Gathering information and preserving evidence
Reporting and communication techniques
Control Objectives and IS-Related Controls
Risk Assessment in an Audit Context
Audit Planning and Management Techniques
Reporting and Communication Techniques
Control Self-Assessment

Module 2—CISA's Role in IT Governance

Topics include:

IT Governance Frameworks
IT strategy, policies, standards and procedures
Organizational structure roles and responsibilities related to IT
Quality Management systems
Maturity and business process re-engineering models
IT contracting strategies
Enterprise risk management
Process Improvement Models
IT Contracting Strategies
Monitoring and Reporting IT Performance
IT Human Resource Management
Business impact analysis
Business continuity planning

Module 3—CISA's Role in Systems and Infrastructure Life Cycle Management

Topics include:

Benefits realization practices

Project governance mechanisms

Project management control frameworks, practices and tools

Risk management practices

Requirements analysis and management practices

System development methodologies and tools

Configuration and release management

System migration and infrastructure deployment practices

Post-implementation review objectives and practices

Module 4—CISA's Role in IT Service Delivery and Support

Topics include:

Service level management practices
Operations management

Technology concepts related to networks, system software and database management systems

System resiliency tools and techniques

Database administration practices
Capacity planning and monitoring techniques
Problem and incident management practices
Disaster recovery plans and testing methods

Module 5—CISA's Role in Protection of Information Assets

Topics include:

Security controls
Security incidents
Logical access controls
Network security controls
Network and Internet security
Attack methods and techniques
Security testing techniques
Encryption related technologies
PKI components and digital signature techniques
Security of mobile and wireless devices
Voice communications security
Data classification schemes
Physical access controls
Environmental protection devices
Process and procedures for information assets


These are the building blocks to a successful career as a top-notch information security professional.
CISA Exam Key Registration Dates for June 2012
Exam Registration Dates
November 2011 Registration opens
08 February 2012 Early Registration Deadline
04 April 2012 Final Registration Deadline
09 June Exam date
2012 EXAM REGISTRATION

Exam Registration Fees
ISACA member
Early registration received on or before 8 February 2012 - US $395 (#67,600)
Final registrations received by 4 April 2012 - US $445 (#75,700)
Non-member
Early registration received on or before 8 February 2012 - US $545 (#91,800)
Final registrations received by 4 April 2012 - US $595 (#99,200)
All payment inclusive of processing fee
Lecture Fee
The lecture fee is #62,000 (included in the study materials and question and answer). Our lecture venue is at LGS, GRA, Ikeja.
Exam Centre
Lagos
Abuja
Port Harcourt
Textbooks
Study materials: #13,000 (2011)
CISA Review Manual 2012
CISA Review Questions, Answers and Explanations Manual 2012
CISA Review Questions, Answers and Explanations Manual 2012 Supplement
Lecture Venue
Our lecture Centre is located at LGS, workyard road, Oba Akinjobi Street Behind Arch Bishop Vining church; GRA; Ikeja. You can also visit our e-learning Centre @ www.3vLearningCentre.com